ATU Present at Day of Mourning Ceremony in Toronto
On Thursday, April 28th, 2016, the Amalgamated Transit Union was present at a memorial ceremony for Day of Mourning, at Larry Sefton Park in Downtown Toronto.
Dozens of citizens, labour unions and affiliates came out to the ceremony hosted by the Canadian Labour Congress (CLC), to mourn those who tragically lost their lives in workplace incidents.
Speakers included OFL President, Chris Buckley and Michelle Cote, whose father suffers from mesothelioma, the consequences of asbestos.
Numerous other touching speeches were delivered, along with a beautiful musical performance.
The message of the day: Mourn for the Dead, Fight for the Living.
As released by the Toronto & York Region Labour Council: the organization is pledging to fight for safe workplaces, healthy lives free of occupational injuries and disease.
The International Trade Union Confederation (ITUC) records that one worker dies from a workplace injury or work related disease every 15 seconds worldwide. This also means that every 15 seconds a family somewhere in this world is losing a fair chance at a better life, income and health.
Every year thousands of Canadian workers are being exposed to asbestos in their workplace. Asbestos is Canada's leading workplace killer, yet the government of Canada continues to allow the import and use of products and materials containing asbestos.
The Toronto & York Region Labour Council calls on the government of Canada to commit to a full ban on Asbestos. Canadian lives depend on healthy workplaces and strong policies that make this law.
---
Justin Trudeau addresses CLC delegation after day of Lobbying on Parliament Hill
Hassan Yussuf and MaryAnn Mihychuk were also present at the event. Two-hundred and sixty unionist from across the country took part in the day meeting with 120 government officials asking for increases to the CPP, legislation officially banning asbestos and asking the government to oppose the Trans-Pacific Partnership (TPP).
---
Canada needs to stop the Trans-Pacific Partnership (TPP)
In the last federal election, Canadians voted for "Real Change". So why is the government considering ratification of the Conservative-negotiated Trans-Pacific Partnership?
---
The Leap Manifesto
A Call for a Canada Based on Caring for the Earth and One Another.
The Truth and Reconciliation Commission has acknowledged shocking details about the violence of Canada's near past. Deepening poverty and inequality are a scar on the country's present. And Canada's record on climate change is a crime against humanity's future.
---
NDP 2016 Edmonton
Watch the special new video here.
---
Make it Fair Campaign
JOIN THE CAMPAIGN TO CHANGE ONTARIO'S OUTDATED LABOUR LAWS TO MAKE IT FAIR FOR EVERYONE.
Ontario workers are increasingly trapped in precarious part-time, temporary, contract and subcontracted jobs, as employers
in every sector drive down wages and working conditions.
Today, we have a once-in-a-generation chance to make sweeping changes to Ontario's labour laws.
Ontario's outdated labour law is failing to protect workers … It's time to MAKE IT FAIR!
I pledge to:
Get involved in the Make it Fair campaign in my community, through my local union and labour council;
Talk to my co-workers, family members and friends about the need to change employment laws;
Work alongside community partners, including the $15 and Fairness campaign;
Click here to take the pledge!
---
Halifax Transit union president calls for increased police presence at Dartmouth bridge terminal
ATU president Ken Wilson thinks Halifax Regional Police should have a community policing office at the bus terminal to act as a deterrent to violence.
The head of the union representing Halifax Transit drivers is calling on the municipality to increase the police presence at the Dartmouth bridge terminal after a driver was assaulted last week.
Two people — one of whom was a 46-year-old uniformed bus driver who had just finished a shift — were allegedly punched and kicked by a pair of teen boys at the bus terminal Thursday night. The teens were arrested and are expected to appear in court at a later date.
---
Several teens attack bus driver at Southdale, inflict potentially 'life-altering' head injuries
Several teenagers assaulted a Metro Transit bus driver in a noontime attack at the Southdale stop in Edina, leaving their victim with potentially "life-altering" head injuries, authorities said.
A juvenile among the several suspects questioned has been arrested in connection with the attack, which occurred Thursday, Metro Transit spokesman Howie Padilla said Saturday night.
---
Injured Kelowna dog searching for deceased owner gets help on public transit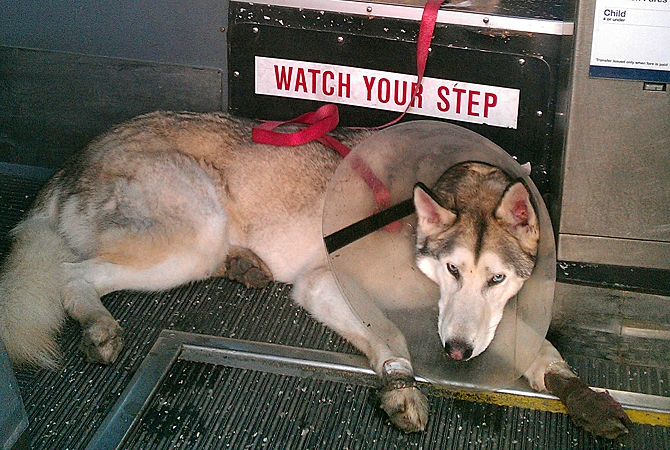 Shadow, an injured Kelowna dog, used the #11 bus to try and find his owner who had died recently.
 "HE ACTUALLY GOT ON THE RIGHT BUS."
---
Saskatoon transit union members to return to regular uniforms
Saskatoon Transit workers will wear their full uniforms when they start work on Wednesday.
Since March 8, bus drivers have been wearing casual clothes as a way to bring awareness to the fact the Amalgamated Transit Union 615 is still without a contract.
---